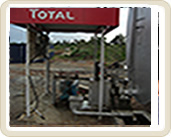 Based in Kampala Industrial Area- Uganda Sol Engineering Systems Ltd. has a wealth of experience and an absorbing interest in solving complex engineering problems. more.
With the accumulated technical knowhow, Sol Engineering Systems Ltd is continuously making every effort to use our make and expert experience to design and process products to meet all customer
requirements more
Corporate Building
We deal in all engineering products such as car hoists, generators , conveyors , safety equipment and more..
Industrial
Contact us for shipping supplies ,Hoists and Equipment , Ware house equipment , Dock equipment Lifts.